A garden discovery:
Whilst gardening in 1 Sholebroke cottage I found a gold plated livery button. This simple find it took me on a voyage of discovery about Sholebroke and its history: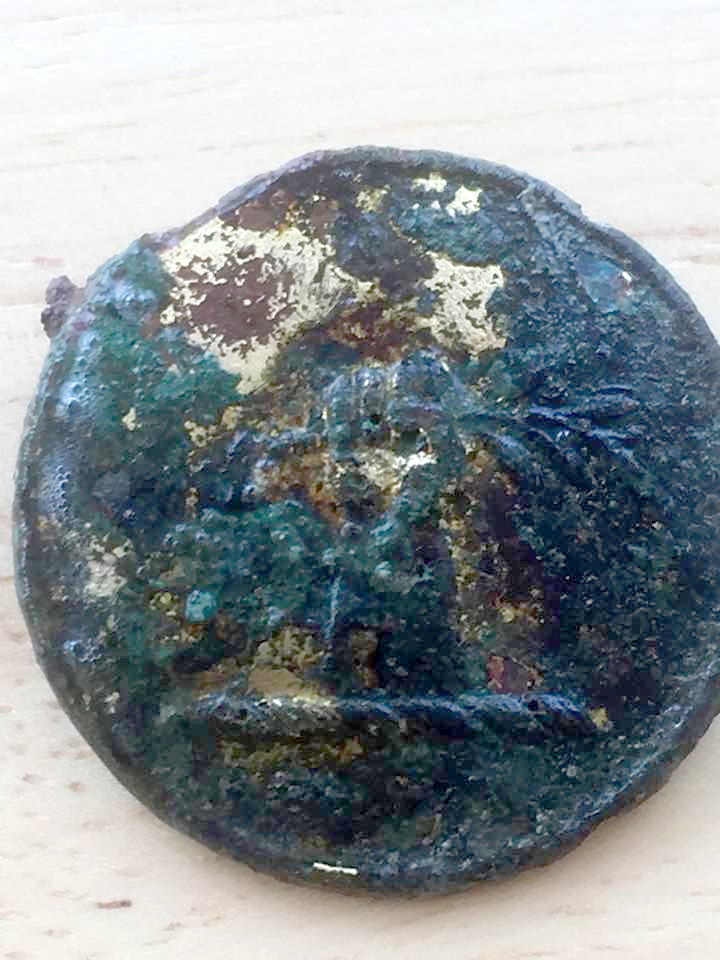 I didn't know much about the history of the area and so searched  to find where the button could have come from. I did know that 1 Sholebroke cottage was either the butler or the house keepers cottage and  I knew that Sholebroke  Lodge was built by Hon Charles Fitzroy in 1805.
A quick post to facebook and a friend suggested it was a livery button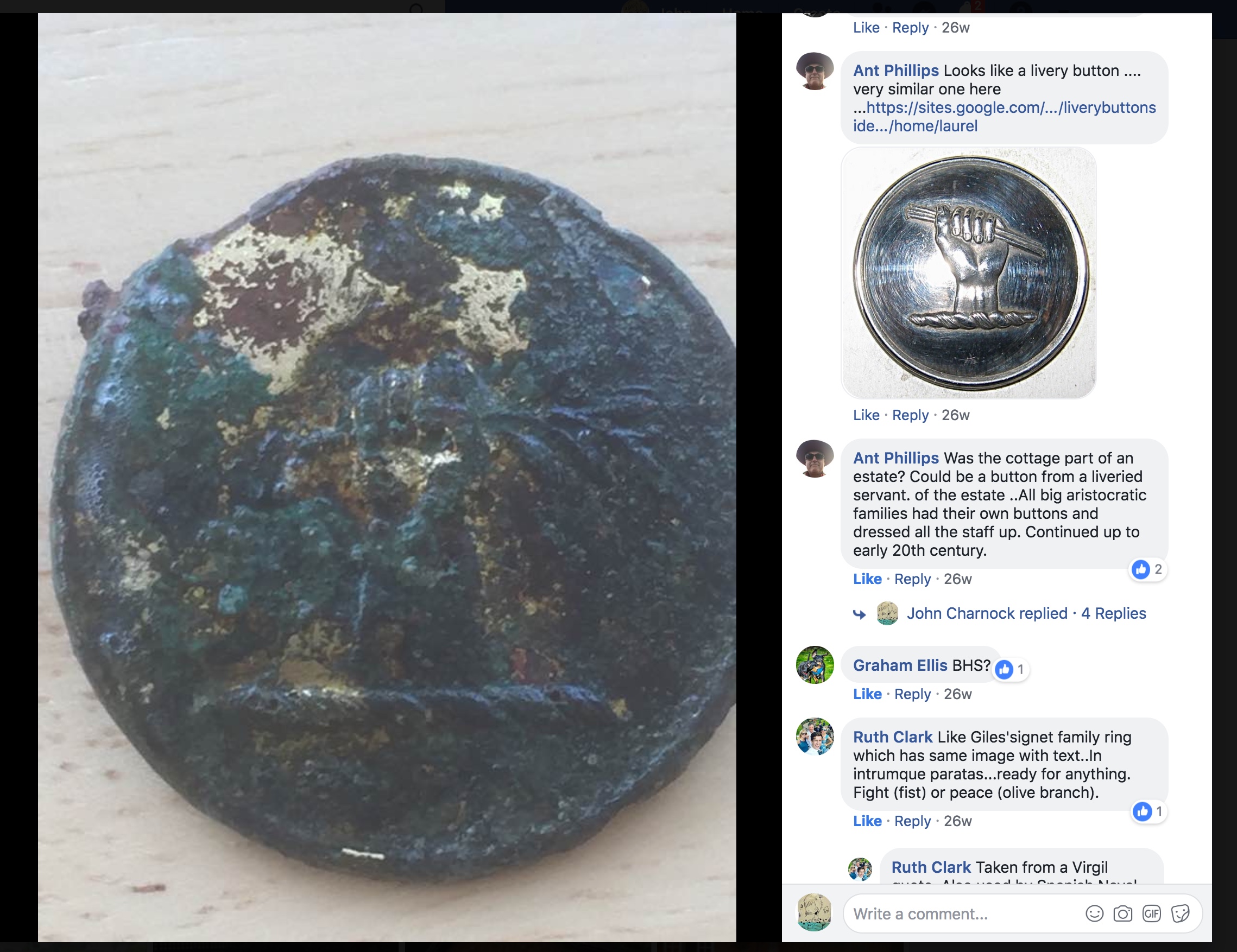 I then found a great site called Livery Buttons Identified that had all sorts of information about livery buttons but unfortunately not the design that I had: https://sites.google.com/site/liverybuttonsidentified/
After many days of searching, not all at the same time i may add,  I came across this: a family crest finder and the Oliver Name came up.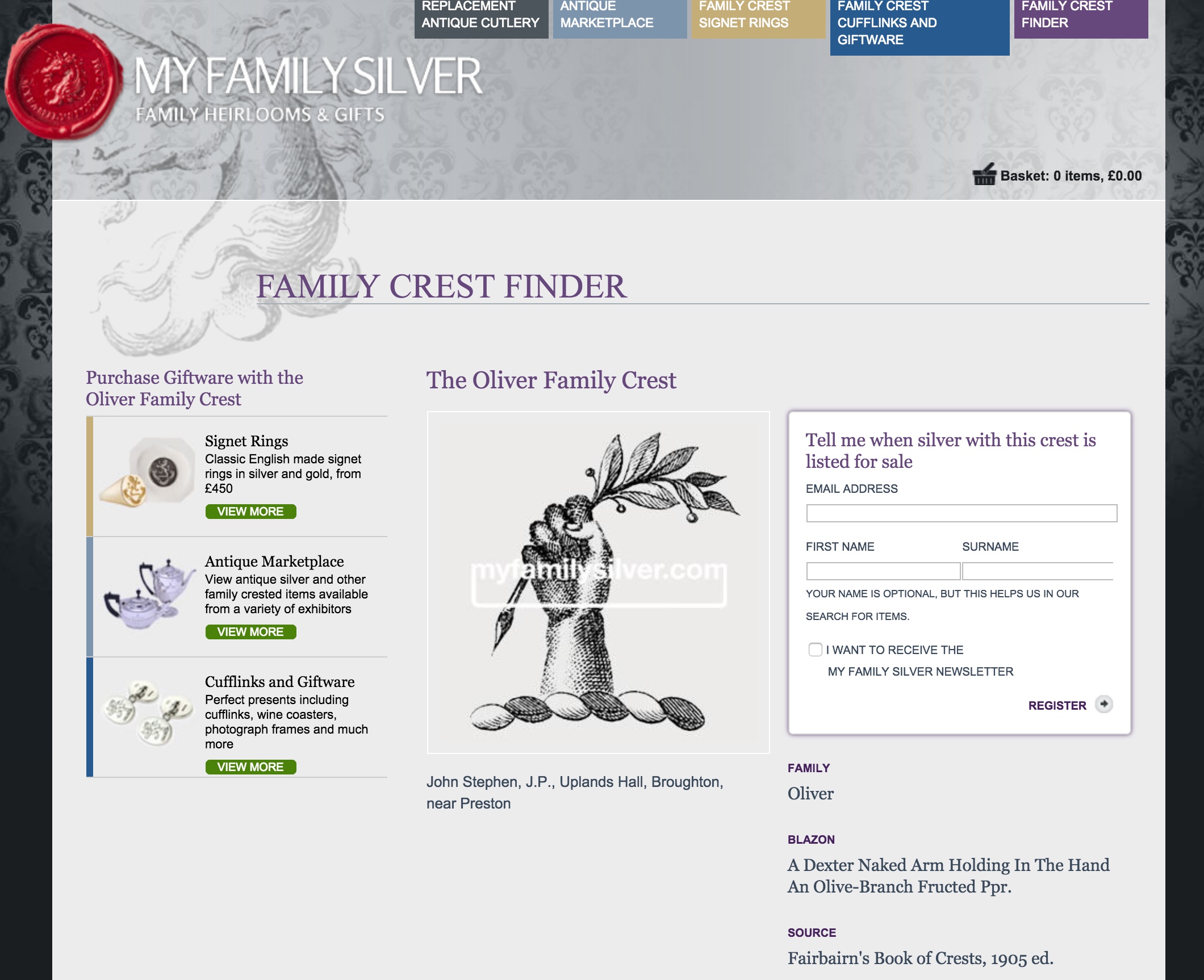 The button was obviously the Oliver family crest but now I needed to find out who in the Lodge was called Oliver.
Google came to the rescue and I found  lots of references to Captain R.V. Oliver and E.E. Oliver at Sholebroke Lodge with regards to Short horn cattle. ( I have concluded that the E. E. is an error) Well this was fascinating and I was transfixed finding the connection between my button and the lodge.
Click on the image to read the full text of Shorthorn Herds of England  – search Sholebroke, Whittlebury, Penhryn and Oliver. There are lots of interesting facts.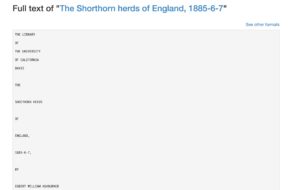 Some key extracts are here: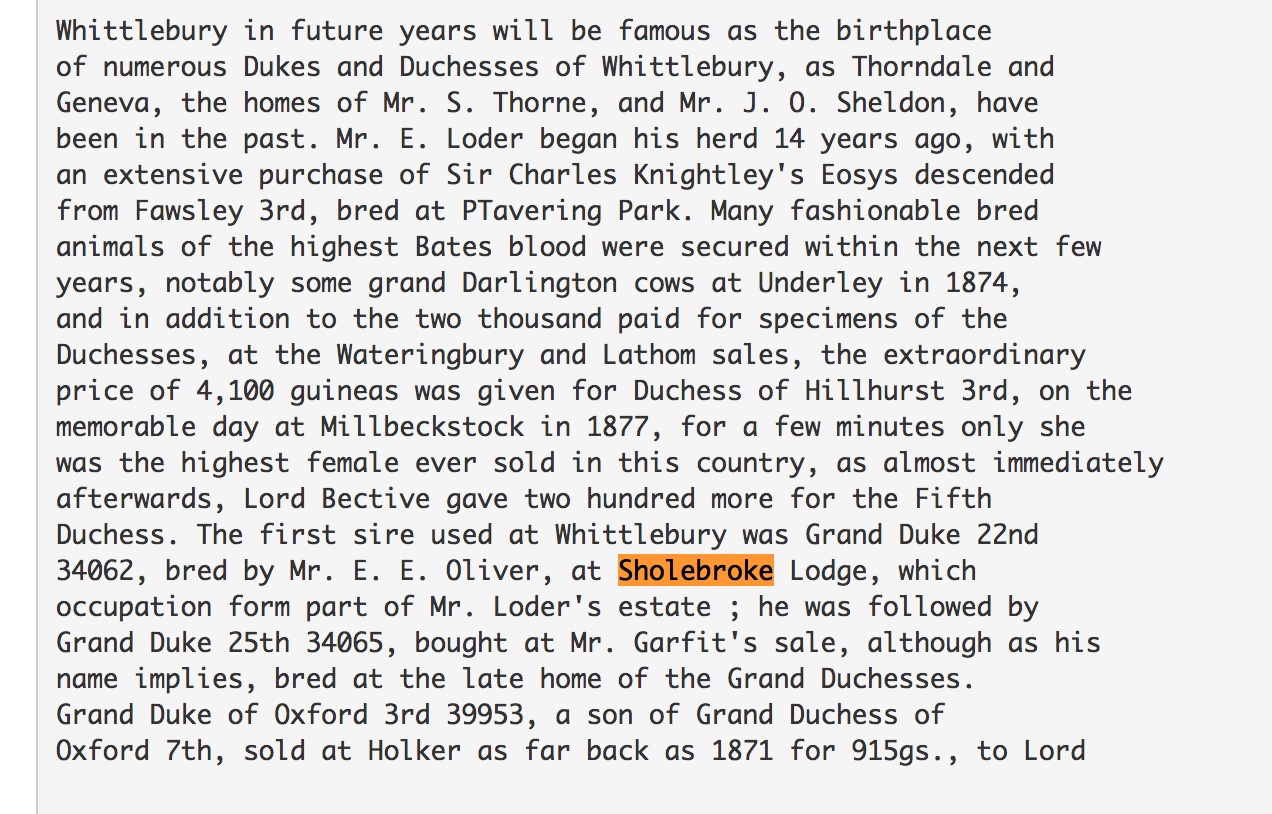 So the Oliver family were world famous breeders of Short Horn cattle – many of which went to America and Mr Oliver spent a considerable amount of time in America it seems (Which back then was a huge trip).
Now my attention turned to the Lord Penhryn because in my searches for livery linked Penhryn and Sholebroke.
Fast forward to my findings:
To cut a long story short I have  worked out what I think is the history of ownership of the lodge I just need to fill in the detail of the dates. Any one know any more info – If so email me at jhc[at]jhc.me
1805- Hon Charles Fitzroy
1843? A. G Robarts
?- 1885 Captain Robert Edmund Oliver  died 1885 (see church record below)
| | | | | | | |
| --- | --- | --- | --- | --- | --- | --- |
| Oliver | Robert Edmund | B1.03 | 12.03.1885 | 68 | Farmer | Sacred to the memory of Robert Edmund Oliver – Born Dabrington Hall Yorkshire June 29th 1816 – Died at Sholebrooke Lodge March 12th 1885 |
1895  Lady Eleanor Cecily Clifton, of Sholebrooke Lodge died – Recorded in the Buckingham Advertiser 1 Dec 1894 – Sholebrook Spelling.
1905 – 1967 Lieutenant-Colonel F Douglas Pennant, 5th Baron Penrhyn, Lord Penryn.
1967-2015 Mr and Mrs B Fenwick
2015- Mr and Mrs J Satchell
In the meantime I came across a Stubbs  Painting – mentioning Sholebroke:  "Joseph Smyth born 1723 in Sholebroke, Northants" – But that is before the Lodge was built and will have to wait for some further investigation. I have no found more information on Joseph Smyth Click here
Update:
We were looking around the Whittlebury Church graveyard (as you do) When my wife decided to clear the moss off of one of the large graves behind the church.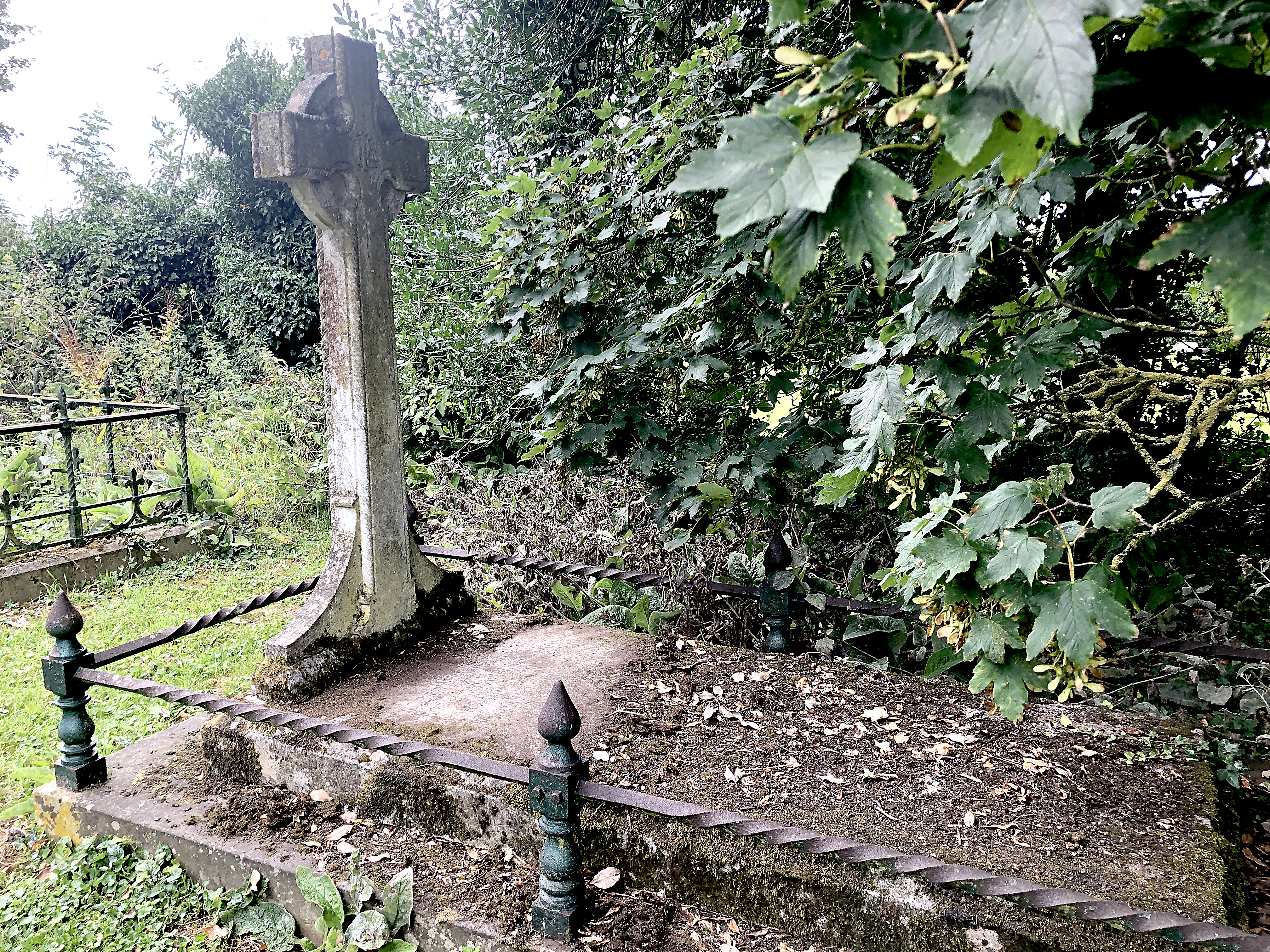 She then discovered that this was the grave of Robert E Oliver.  The owner of the  Livery Button that was found in our garden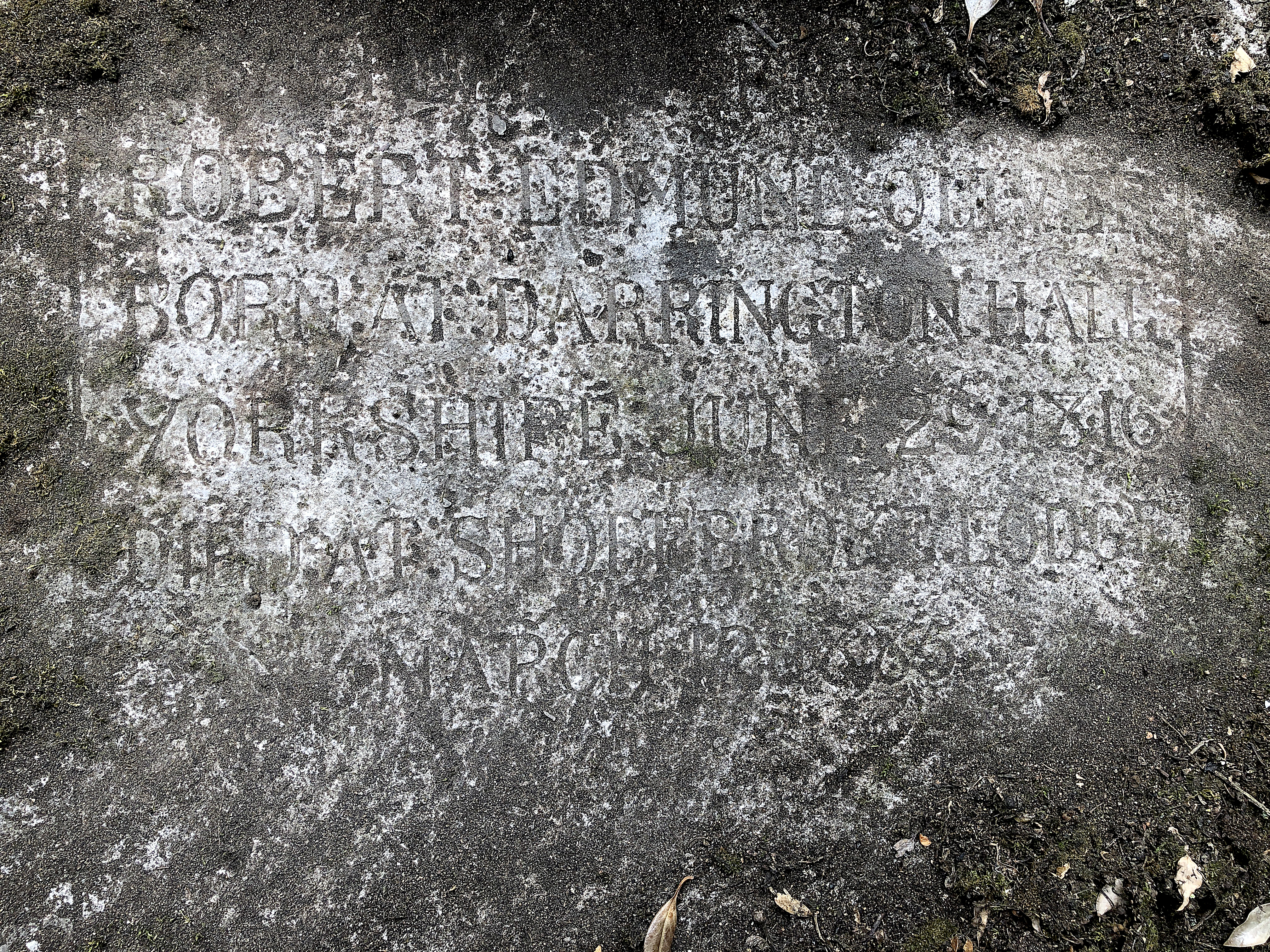 The grave reads:
Robert Edmund Oliver
Born at Darrington Hall
Yorkshire June 29 1816
Died at Sholebroke Lodge
March 12 1885
It was great to close the loop from finding his Livery Button to the grave that he was buried in.
Here is a pic of the Oliver crest on the livery button – slightly cleaned up: